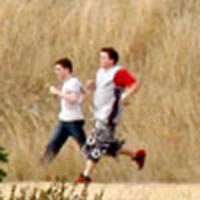 'Phoenix' filming
New photos & report from 'Phoenix' filming
August 5, 2006 at 10:05 AM ET
Geri HPANA (via Various)

harry potter and the order of the phoenix movie, order of the phoenix movie, daniel radcliffe, dan radcliffe, harry melling
---
Some new photos

of Daniel Radcliffe and Harry Melling rehearsing a scene for Harry Potter and the Order of the Phoenix have appeared online. The new photos show both actors running in what appears to be the Privet Drive set.
The photos taken over the last few days at the Leavesden Studios also show two Knight Buses which may make an appearance in the film.
You can read an additional report of the filming here

(just scroll down to the Update On Filming story).
In the pictures you will see a couple of snaps of a park. This park was being used for an opening scene between Harry and Dudley. Dudley was teasing Harry with something to do with Cedric. Harry approached Dudley with his wand and then there is a weather change from being the hottest day of the year to really dark, scary winds blowing and apparently something to do with the dementors.