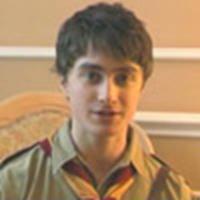 Dan Radcliffe
Radcliffe & Davis participate in awards ceremony
July 26, 2006 at 7:34 AM ET
Geri HPANA (via News Tip)

daniel radcliffe, dan radcliffe, warwick davis, peterborough childrens film awards
---
Harry Potter actors Daniel Radcliffe and Warwick Davis participated

in the first Peterborough Children's Film Awards earlier this month in the UK. A total of 208 short films were entered and awards were made in 10 different categories.
Warwick presented two awards at the ceremony and to the delight of all those in attendance Dan presented an award via a pre-recorded video.
Warwick said:
The children had to think of an idea, write the story and script and create a storyboard. They then had to learn how to act and to edit films and work as a team.
You can hear Dan's message here

, just scroll down to the end of the page and hit the Click to Listen icon.
Thanks to Alana

for the news.