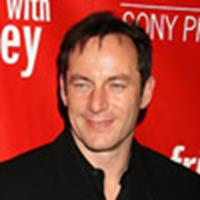 Jason Isaacs
Jason Isaacs briefly discusses 'Phoenix'
July 21, 2006 at 7:52 AM ET
Geri ComingSoon.net (via TVGuide.com)

harry potter and the order of the phoenix, order of the phoenix, jason isaacs
---
In an interview to discuss his latest project, Brotherhood

, Jason Isaacs briefly

discusses shooting Harry Potter and the Order of the Phoenix.
He lets everyone know that he films his scenes in September, talks about his first Harry Potter movie and mentions what happens to his character in the sixth.
TVGuide.com: A Potterphile pal of mine says fans are anxious to see how Order of the Phoenix handles the Battle of the Ministry, a "beyond huge" moment, I am told, in Potter lore.
Isaacs: I am, too. This is all as entertaining for me as it is for many of the fans. I turn up and they go, "OK, you materialize from here and you fly in over here, and then you point at this and it's going to explode...." I stand there with my jaw dropped. When I did [Chamber of Secrets], they said, "OK, there's going to be a little blue guy [Dobby the House Elf] walking next to you and then he's going to jump up to here...." [Laughs] On the first day of the first one I did, the first shot I had to do was storming out of a room, leaving the lovely Richard Harris (the original Dumbledore) and Daniel [Radcliffe, Harry]. [Director] Chris Columbus shouted, "OK, and then shut the door on your way out." I said, "Do I have to shut the door? I don't know what the rules are, but can I just wave my hand and the door shuts by magic?" Chris paused for a second and said, "Sure. If you like." That's when I knew I was going to have a great ride.