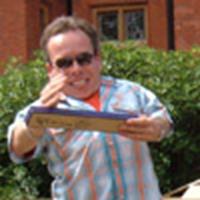 Warwick Davis
Warwick Davis holds special auction for school
July 17, 2006 at 7:26 PM ET
Geri HPANA (via DR.co.uk)

warwick davis, harry potter and the goblet of fire, goblet of fire, daniel radcliffe, dan radcliffe, devon murray
---
Warwick Davis

from the Harry Potter movies was the MC at an auction

yesterday in which all the proceeds went to Holm Village Pre-School in Peterborough, UK. One of the interesting items

up for auction was a very rare, original 'Quidditch World Cup Programme' as used in Harry Potter and the Goblet of Fire signed by Dan Radcliffe, which finally went for $3,640.
Other Potter related items included a photo of Harry and Seamus, signed by Dan and Devon Murray and a wand box used in the first film, signed by Dan, Devon Murray and Warwick Davis.
You can see some pictures from the event here

.