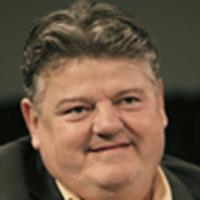 Robbie Coltrane
Coltrane in U.S., finished filming 'Phoenix'
July 15, 2006 at 11:25 PM ET
Geri HPANA (via News Tip)

harry potter and the order of the phoenix movie, order of the phoenix movie, robbie coltrane
---
Robbie Coltrane, who portrays Hagrid in the Harry Potter movies, visited the U.S. earlier this week to promote his next venture. Coltrane was in the U.S. promoting Cracker: A New Terror at the 2006 Summer Television Critics Association Press Tour, took about 10 seconds to decide to recreate his role as Fitz, even though it had been a decade since the last Cracker movie.
The movie is scheduled to air in the U.S. on BBCAmerica

in October. You can view some pictures from the event here

.
Of interest to Potter fans is the fact that Coltrane recently finished

with his scenes for Order of the Phoenix.
Thanks to Ricky for the tip.