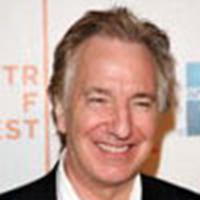 Alan Rickman
Rickman's play to open off-Broadway in October
June 22, 2006 at 4:33 PM ET
Geri Wizard News (via Broadway World)

alan rickman
---
Alan Rickman, Prof. Snape in the Harry Potter series is to have his play My Name is Rachel Corrie open

off-Broadway in October. The play, which Mr. Rickman edited and directed, has been honored on the London stage but has not been shown on Broadway due to it's controversial topic.
The play shows the life of Rachel from college at Washington State through her experiences as an activist before her death in Gaza.
Mr. Rickman commented on the play:
We were never going to paint Rachel as a golden saint or sentimentalize her, but we also needed to face the fact that she'd been demonized. We wanted to present a balanced portrait. The activist part of her life is absolutely matched by the imaginative part of her life. I've no doubt at all that had she lived there would have been novels and plays pouring out of her."
The cast has not been announced as of yet and will open on October 15 for a limited run at the Minetta Lane Theater. You can purchase tickets through Ticketmaster

.
The play is also scheduled

to be performed at the World Urban Festival

in Vancouver, Canada, on July 22nd and 24th.