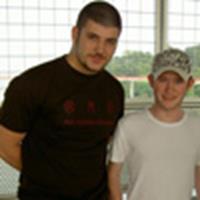 Stan & Devon
Devon Murray & Stan Ianevski visit Japan
June 8, 2006 at 3:39 PM ET
Geri HPANA (via News Tip)

devon murray, stanislav ianevski, stan ianevski
---
Harry Potter actors Devon Murray

(Seamus Finnegan) and Stan Ianevski

(Viktor Krum) are currently visiting Japan on vacation and we have some photos of their trip.
Thanks to John for the photos

and the following information:
1. Devon & Stan visit the Red Monkey shop in Shibuya - Red Monkey Watches are known as celebrity watches. They both picked their favorite ones.
2. In Fukushima, they visited a girl's school and experienced tea ceremony.
3. At the school, they played "KOTO," a Japanese harp.
4. They talked about their filming experiences and personal story.
5. After coming back to Tokyo, they met some sumo wrestlers.
6. In Sasebo, Kyushu (Southern island), they visited a famous hamburger shop "LOGKIT" and met The Burger MAMA-san.
7. Visited a famous local cookie factory in Sasebo and wore the worker's costume.
8. Devon & Stan on the glass top of a high bridge (43m from the sea level) in Sasebo.
9. They posed at YY Boueki shop in Sasebo with the Japanese promoter, Mune.
On June 9th, Devon & Stan will make an appearance at the Hotel Monterey La Sceur, in Osaka, Japan from 2 pm through 5 pm. There is a fee for autographs and photos, and on the June 11th, both will make an appearance at RERA Outlet Mall in Chitose, Hokkaido from 11 am through 6 pm.
You can get more information here

(in Japanese) and for event and appearance information, you can call 090-9140-9104.