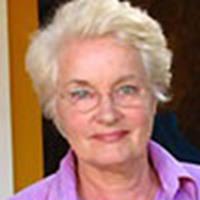 Liz Calder
Publisher: Book 7 'likely' in 2007
May 25, 2006 at 9:04 AM ET
Cheeser HPANA (via Daily India)

harry potter book 7, liz calder, creative future, india
---
Bloomsbury publishing director Liz Calder said the next and final Harry Potter book is "likely" to be released in 2007... she hopes.
At the British Council's Creative Future

conference in India this week, Calder allegedly said as much in an interview

with Indo-Asian News Service:
"One more 'Harry Potter' only but she (Rowling) said from the beginning that she would write seven. So she would not write another one after this. But Rowling would write other books for us," said Liz.
"The next 'Harry Potter' book is likely to come out in 2007. I hope so."
While Calder's comments are optimistic at best, she's one of only a handful of people other than Jo herself who could make such a weighty prediction.