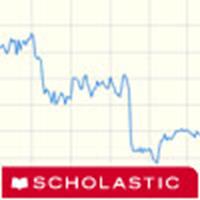 Scholastic
Broker bullish about book 7
May 25, 2006 at 5:36 AM ET
Cheeser The Leaky Cauldron (via AP)

harry potter book 7, harry potter 7, scholastic
---
Stocks of Scholastic will head north ahead of the publication of JK Rowling's to-be-named seventh book in her Harry Potter series, says

analyst Drew Crum.
"We are compelled by the potential upside in the shares given the impending publication of 'Harry Potter' number seven, when considering the stock's history of advancing and peaking ahead of a book release," he said.
Crum researched educational publishers and found that conditions are ripe for growth, thanks to school budget increases mandated by the "No Child Left Behind" act. Scholastic is doubly special because of its status as the Potter pusher in America.
However, the New York Times last week intimated

that books aimed at children will see quite the opposite:
...growth in children's books is expected to decline sharply in 2007, when no Harry Potter book is currently scheduled for publication.