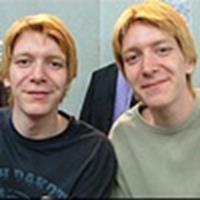 James & Oliver Phelps
Weasley twins say filming 'Phoenix' is "really good fun"
May 1, 2006 at 9:48 AM ET
Geri CBBC Newsround

james phelps, oliver phelps, harry potter and the order the phoenix, order of the phoenix, collectormania 9
---
This past weekend some of the stars from the Harry Potter movies were in attendance

at Collectormania 9

in the UK. James and Oliver Phelps and Robert Pattinson signed autographs for many hours over the days of the convention and even mentioned that filming on Order of the Phoenix is "really good fun."
When asked about current filming, James said:
We can't say too much, but filming is going really well - it's really good fun.
Oliver added:
We've met a few of the new actors to join the cast and they seem really cool and we're looking forward to working with them.