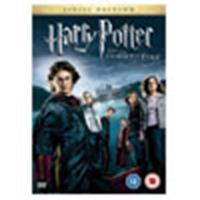 UK 'GoF' DVD
'Goblet of Fire' flies off the shelves in the UK
March 27, 2006 at 3:19 PM ET
Geri CBBC Newsround

harry potter and the goblet of fire dvd, goblet of fire dvd
---
With just a week on sale Harry Potter and the Goblet of Fire has become the fastest selling

DVD ever in the UK.
According to CBBC Newsround:
Just under three copies flew off the shelves every second during the first six days of its release.
And on the very first day it hit the shops, Monday 20 March, six copies were being sold every second.
In total it has now sold 1.4 million copies making it the seventh biggest selling DVD movie of all time according to the Official Charts Company

.