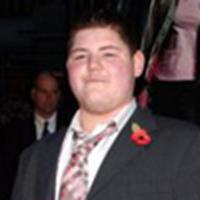 Jamie Waylett
Waylett: Next 'Potter' movie even better
March 21, 2006 at 8:10 PM ET
Geri HPANA (via News Tip)

jamie waylett, harry potter and the order of the phoenix, order of the phoenix
---
Jamie Waylett, from the Harry Potter movies, has updated

his diary on this web site and states:
The new director is really good, he asks for our opinions on our characters a lot...I said I think Crabbe is a really good, kind guy... (only joking!)
I think Harry Potter and the Order of the Phoenix might even be better than Goblet of fire!
We've filmed a few scenes so far and we've been having a lot of fun as the baddies...pushing Neville around, mostly!
Me, Josh, Tom and some other Slytherins are Umbridge's favourite students, so it's great to make the Gryffindors uncomfortable for once!
We also got new dressing rooms and a games room, and since a lot of us don't have tutoring anymore we're enjoying it!
Thanks to everyone who emailed us with the update.