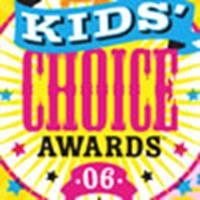 Nickelodeon's KCA 2006
'Potter' nominated for 2006 Kids' Choice Awards
March 8, 2006 at 11:12 AM ET
eudaemonia HPANA (via News Tip)

kids' choice awards, choice awards, nick awards, kca, nick nomination, nick nominee, goblet of fire, harry potter series, potter series, harry potter and the goblet of fire, gof
---
Nickelodeon Kids' Choice Awards 2006

has given the Harry Potter book series and the Goblet of Fire film each a nomination in the respective categories of Favorite Book and Favorite Movie. The polls are now open

for voters to decide this year's winners.
Here are the categories with the list of fellow-nominees:
Favorite Movie
Are We There Yet?
Charlie and the Chocolate Factory
Harry Potter and the Goblet of Fire
Herbie: Full Loaded

Favorite Book
The Chronicles of Narnia
The Giving Tree
Harry Potter series
Lemony Snicket's A Series of Unfortunate Events
The winners will be announced during the show's live airing on April 1st from UCLA's Pauley Pavilion.
Thanks to Kristine for the tip!