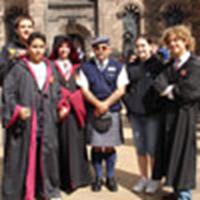 HP Fan Trips
Music, magic to greet HP Fan Trips 2006 guests
March 7, 2006 at 7:14 PM ET
Cheeser HPANA (via HP Fan Trips)

harry potter tours, harry potter trip, harry potter fan tour
---
Here's the latest from HP Fan Trips

:
Scottish music group MacUmba will perform at HP Fan Trips' exclusive gala event at Edinburgh Castle on the final night of the 2006 tours, it was announced last month. The trips, which begin this year in early July, have been heralded by fans and international media as the premiere Harry Potter-themed tour, cited in renowned tour guides Frommer's, Fodor's and the New York Times.
Attended by more than 400 fans over the last three years, HP Fan Trips continues to be the only private tour group in the world to offer a ride on legendary steam locomotive #5972 Olton Hall, the famed "Hogwarts Express" train used in the official Warner Bros. movies. With the addition of an exclusive party at Edinburgh Castle (where JK Rowling launched her sixth Potter book) and a hike into the hills of Scotland (where several scenes from Goblet of Fire were filmed), HP Fan Trips has built upon an established set of programs this year, based largely on fan feedback.
"While there are many look-alike and copycat Harry Potter-themed trips out there, HP Fan Trips is the original and authentic fan-created tour, professionally executed by a world-class travel agency," said Jeff Guillaume, webmaster of Potter site HPANA.com and one of the trip's founding fans. "They get us access to places and attractions that fans simply cannot get on their own," he said. (Colorado-based Beyond Boundaries Travel

has operated the trips for the last three years.)
MacUmba

-- which translates roughly as "magic" -- mixes the traditional sounds of Scottish bagpipes with driving Brazilian and Carribbean percussion beats and has performed at The World Cup in France and appeared on the BBC and Univision, and at countless international music festivals.
HP Fan Trips is also pleased to announce the sale of individual tickets to ride on #5972 and sit in the very carriages used in the Harry Potter films.
Remaining spots on HP Fan Trips' 2006 tours are limited, so be sure to visit the official site to make your reservations

with just a small deposit, or to order individual train tickets.
Photos from the 2005 trips

are also now available!