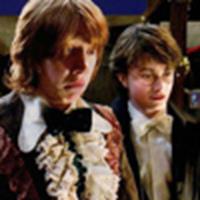 'EW' review of 'GoF' DVD
Review of 'GoF' DVD from EW & more
March 3, 2006 at 7:32 PM ET
Geri HPANA (via News Tip)

harry potter and the goblet of fire dvd, goblet of fire dvd
---
Another review of the Harry Potter and the Goblet of Fire DVD has appeared in this week's issue of Entertainment Weekly

, on newsstands today. The reviewer gives the DVD a B+.
From the review:
The segment titled Reflections on the Fourth Film gives a surprisingly touching sense of the camaraderie among the young cast members: and a prolonged postproduction chat with Radcliffe (without glasses!), Emma Watson (wearing braces!), and Rupert Grint (shorter hair!) shows them to be both refreshing dorks and seasoned pros.
The article also has a snippet about Dan's inability to dance which is shown on the DVD under Preparing for the Yule Ball.
Thanks to Shannon you can see a scan of the review here

.
Also E Online!

has posted their review, giving the DVD a B+ also.
Snippet from their review:
The aging actors actually act like real, rambunctious teens; the heavy special effects are dazzling, and there's a wicked sense of humor intertwined. And it's a relief to loosen up the series like that.
UPDATE: Another review

has surfaced from IGN.com giving the DVD a 9 out of 10 score:
The "Additional Scenes" featurette has a great deal of deleted material. This isn't just cut lines or short scenes removed from the final film; these are full five, six minute scenes that didn't make it.