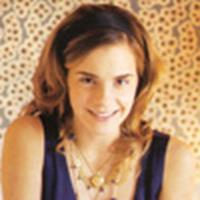 Emma Watson
Emma sends new newsletter to fans
March 2, 2006 at 10:05 AM ET
Geri Veritaserum

emma watson, harry potter and the order of the phoenix, order of the phoenix
---
Emma Watson from the Harry Potter movies has recently sent out her new newsletter to fans who have written to her. In the newsletter she mentions how happy she is to be back filming, what she has done over the last couple of months and that she is studying for her GCSE's.
Well, after nine months away, I am now back at the studio, as we have started filming Harry Potter & The Order of the Phoenix. I can't believe how quickly this last year has gone! I have been back at school, studying hard for my GCSE's, catching up with friends and family and playing lots of hockey... and now the countdown to my exams really begins - June is approaching a little too quickly for me! I keep reminding myself of how great it will feel once they are over and I get to put my books away for a short time - not very Hermione, I know!
You can read the rest of the newsletter here

courtesy of VTM.