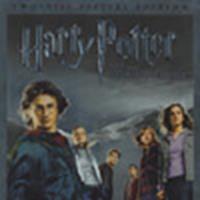 'GoF' DVD
Review of 'GoF' deluxe edition DVD
February 24, 2006 at 12:05 AM ET
Geri HPANA (via The Trades)

harry potter and the goblet of fire dvd, goblet of fire dvd, gof dvd
---
With the release of the Harry Potter and the Goblet of Fire DVD just weeks away, a review

of the deluxe edition has appeared online. The review discusses the dazzling special effects of the movie, the acting and the second disc which is filled with featurettes, interviews, and interactive wizardry. The reviewer gives the DVD package an A- grade.
Comments on the extras on the 2nd disc:
The additional scenes segment includes the full-length version of the rock and roll song played at the Yule Ball, as well as some rather "crucial to the plot" bits that really should have been incorporated into the film, even if only at the option of the viewer. The special features all highlight the cast and crew as they discuss the setting up of the various tasks. Richard Curtis hosts a group chat with Radcliffe, Grint, and Watson, who are later joined by a small audience of young fans who get to ask their questions. The rest of the regular cast of kids join in on "Reflections on the Fourth Film", where they talk about growing up together with each other from the first film to this one.
The Goblet of Fire DVD will be released on Tuesday, March 7th.