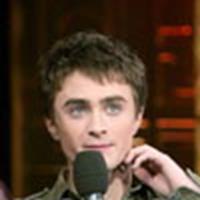 Dan on TRL
Vote for Dan in MTV's TRL Awards
February 13, 2006 at 7:25 PM ET
Geri HPANA (via DanRadcliffe.co.uk)

daniel radcliffe, dan radcliffe
---
The 4th Annual TRL Awards

is just around the corner and Harry Potter actor Daniel Radcliffe has been nominated for his appearance on TRL in the Best Guest under 21 (Fake ID) category. Dan was in town promoting Goblet of Fire and showed the audience how he can turn his arm 360 degrees and answered some funny questions. Daniel is up against Chris Brown, Lindsay Lohan and Hilary Duff.
You can vote

to determine the outcome of the awards starting today through February 21st. You can also watch select clips of the nominees, and other streaming videos leading up to the big February 25th show. Please check your local listings for times.
You can watch Dan's appearance here

[Quicktime, 31.62 MB, 8 mins 40 secs; (please remember to right click & save target as...)].
Thanks to Page

for the tip.