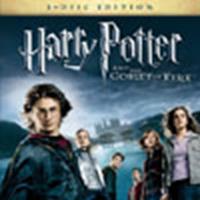 UK DVD cover of 'GoF'
UK 'GoF' DVD release on March 20; May 31 in France
January 26, 2006 at 9:21 PM ET
Geri HPANA (via News Tips)

harry potter and the goblet of fire dvd, goblet of fire dvd, harry potter and the goblet of fire, goblet of fire
---
Fans in the UK will have to wait until

March 20th to view the DVD release of Harry Potter and the Goblet of Fire, thirteen days after the U.S. release, which is March 7th. The DVD will cost £24.99 ($44.60) and will have the same features as the U.S. version.
The French version of the movie will be released on DVD on May 31st due to laws requiring at least 6 months between the theatrical and DVD releases.
Thanks to Pruneau from La Gazette du Sorcier

& Andrew for the news.
Also note that the Australian release

of Goblet of Fire will be April 5th & the Italian version on March 22nd. Thanks Emma & Gioia.