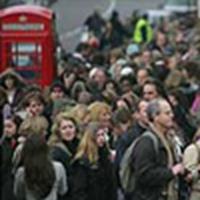 Luna hopefuls
Thousands brave weather to attend Potter audition
January 14, 2006 at 9:16 AM ET
Geri BBC

harry potter and the order of the phoenix, order of the phoenix
---
With open auditions happening today

in London, thousands of teenage girls braved the cold weather chasing their dreams of appearing in the next Harry Potter movie.
According

to the BBC the first in line was 15 year-old Kim Allen, from Andover, Hampshire, who commented:
There are three of us and we slept outside although we didn't sleep very well. I've done drama lessons but that's about it but I have loved acting ever since I was younger and I'm mad about Harry Potter. If I got this, it would be a step for me towards being in more films and I desperately want the part.
Filming of Harry Potter and the Order of the Phoenix is scheduled to start in February. Good luck to all who attended.
UPDATE: CBBC Newsround has posted

a report on the turnout as well as interviews & pictures. You can also read about one's girls audition experience

.