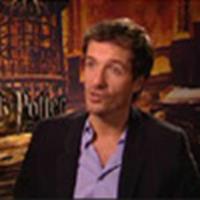 David Heyman
New 'GoF' cast interviews
January 8, 2006 at 10:04 PM ET
Geri Veritaserum (via MyMovies.net)

harry potter and the goblet of fire, goblet of fire, hp 4, clémence poésy, stanislav ianevski, stan ianevski, katie leung, robert pattinson, david heyman
---
Some new interviews with the cast and crew from Harry Potter and the Goblet of Fire have appeared online. The interviews are with producer David Heyman and actors Stanislav Ianevski (Krum), Clémence Poésy (Fleur), Katie Leung (Cho) and Robert Pattinson (Cedric). Each actor describes going to fan sites and reading fans reactions to their characters and David discusses being a member of the team since 1997 and still not being tired of it.
The interview with Stan & Clémence can be viewed here

. The interview with Katie & Robert can be viewed here

& the interview with David can be viewed here

.
If you have problems with the links just go to the menu bar on the left of the site & scroll down to each interview.