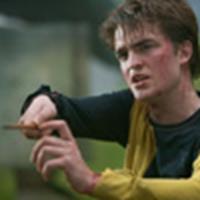 Cedric 'Goblet of Fire'
Cedric's demise on EW's tragic movie moments list
January 5, 2006 at 1:48 PM ET
Geri HPANA (via News Tip)

harry potter and the goblet of fire, goblet of fire, hp 4
---
To coincide with the end of the year lists from magazines, 'Entertainment Weekly' has rounded up the most tragic movie moments

from 2005 and Cedric's demise during Harry Potter and the Goblet of Fire lands at the number four spot.
At number four:
Harry Potter and the Goblet of Fire: The murder of kind and decent Cedric Diggory (Robert Pattinson). It's the darkest moment up to that point in the Potter saga, as Harry experiences the death of someone close to him for the first time since he lost his parents. Meanwhile, he's forced to confront just how deadly his nemesis Voldemort (Ralph Fiennes) is, and how likely it is that their clash may claim the lives of more innocents.
Goblet of Fire lands between The Chronicles of Narnia: The Lion, the Witch and the Wardrobe's ritual slaughter of Aslan at number five and the scene of the frozen egg from March of the Penguins at number three.
Thanks to Rose for the tip.