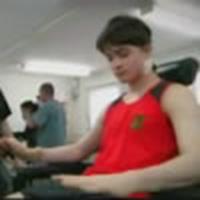 GMTV 'GoF' special
Update: GMTV behind-the-scenes look at 'GoF'
December 30, 2005 at 9:01 AM ET
eudaemonia Veritaserum

goblet of fire, movie 4, film 4, harry potter and the goblet of fire, ronald weasley, ron weasley, rubeus hagrid, hagrid, harry, potter
---
GMTV

recently aired

a behind-the-scenes special with the cast and crew of Harry Potter and the Goblet of Fire, which was hosted by Ben Shepard.
The first segment of the special is now available to view online featuring clips from the movie; interviews with Daniel Radcliffe, Rupert Grint, Emma Watson, Robbie Coltrane, producer David Heyman, and director Mike Newell; and a visit on the set, in-between film shoots.
Thanks to Veritaserum, you can download this segment here (Windows Media, zipped file). Enjoy!
UPDATE: You can now see the second

& third

segments of the show (Windows Media, zipped file), again courtesy of VTM.
UDPATE II: The fourth & final video can be found here

.