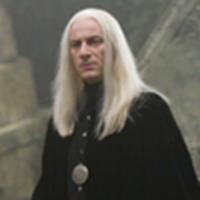 Jason Isaacs as Lucius Malfoy
New images from 'GoF' photo shoot
December 25, 2005 at 7:52 PM ET
Geri HPANA

brendan gleeson, daniel radcliffe, dan radcliffe, emma watson, jason isaacs, robert pattinson, rupert grint, stanislav ianevski, stan ianevski, tom felton, harry potter and the goblet of fire
---
A new image

of Jason Isaacs as Lucius Malfoy courtesy of Jason Isaacs Photo Albums Online

via TLC

has surfaced from a photo shoot for Harry Potter and the Goblet of Fire.
Thanks to VTM

we also have some new versions

of images we have seen before of Dan Radcliffe, Emma Watson, Rupert Grint, Robert Pattinson, Tom Felton, Stanislav Ianevski and Brendan Gleeson. We have seen all of these poses before but not in such good quality.