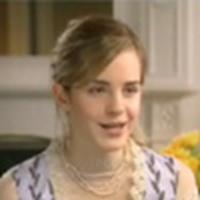 Emma Watson
New 'GoF' interview with trio
December 12, 2005 at 7:52 AM ET
Geri Veritaserum (via RGMS)

---
In last night's episode of Dateline, Daniel, Rupert and Emma were interviewed on the set of Harry Potter and the Goblet of Fire. In the interview, which we have not seen before, each speaks about their characters and growing up.
You can watch the video here

(right-click & save target as...) or go directly to RGM to view.