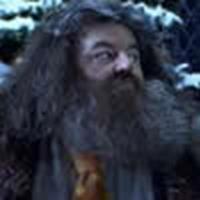 Rubeus Hagrid
No sign of Hagrid in the 'Order of the Phoenix'?
December 9, 2005 at 11:20 AM ET
eudaemonia The Leaky Cauldron (via Manchester Online)

Rubeus Hagrid, Rubeus, ootp, movie 5, harry potter and the order of the phoenix, the order of the phoenix
---
Manchester Online recently conducted an interview with Robbie Coltrane

, who portrays Hagrid in the Harry Potter movies. In addition to delving into his background and current projects, Robbie also mentions his character's uncertain return in the fifth movie, Order of the Phoenix.
It was his children who helped convince him to take the role of Rubeus Hagrid, the half-giant gamekeeper in the Harry Potter films. His own education may explain why Hagrid is so happy to live outside the walls of Hogwarts. "Having been to public school, I would really hate to go to jail."
He reveals he's yet to sign up for the fifth Harry Potter film, to be made next year. "We don't know yet. It's not negotiated yet."
To read the full article, click here.