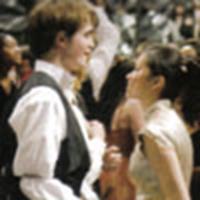 Cedric & Cho during the Yule Ball
Never before scenes from 'GoF' calendar
November 23, 2005 at 9:17 PM ET
Geri HPANA (via News Tip)

harry potter and the goblet of fire, goblet of fire, harry potter and the goblet of fire calendar, goblet of fire calendar
---
Some news scans from a 2006 Harry Potter and the Goblet of Fire calendar have appeared showing images that never appeared in the released movie. The scenes show Cedric and Cho during the Yule Ball, Karkaroff and Snape in the snow and some of the trio by a waterfall.
You can see the news scans here

.
Thanks to Snitch Seeker

via RupertGrint.us

for the scans.