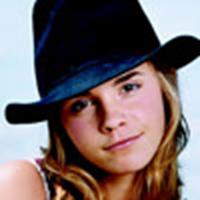 Emma Watson
Emma Watson on the cover of ELLEgirl
November 23, 2005 at 2:04 PM ET
Geri HPANA (via News Tip)

harry potter, emma watson
---
The December/January issue of ELLEgirl features Emma Watson, (Hermione) from the Harry Potter movies, and we have the cover as well as a picture from the article.
Some snippets from the article courtesy of the magazine

:
On acting: My grandma has evidence that from the age of three I wanted to act. I said 'Number 1, I want to be a fairy; number two, a princess; and number three, an actress.' So it did rate lowest, but my first two were kind of unrealistic.
On Hermione: I've been denying that I'm anything like her, but I've come to terms with the fact that we're really quite similar. As thefilm goes on, thecomparison is a big compliement. She stands for girl power; she won't let anyone mess aher around; she's got two guys for best friends, but still holds her own. I love that she's intelligent and proud of that fact; she's determined; she never gives up; she's loyal; she stands up for her friends. I thnk she's kickass.
On style: Just be comfortable in what you're wearing. Dress for who you are, and how old you are-don't try to be anything else. I don't have a stylist yet. A lot of my clothes I pick out with my mom or friends. I quite like that-having my own sense of style and feeling like when I go out there, it's me.
On Favorites: At the moment my favorite pair [of jeans] is probably my gray Sass and Bides. [My favorite soup is] Heinz Tomato Soup, all the way.
Go here

to see the pictures from the issue which is currently on sale.