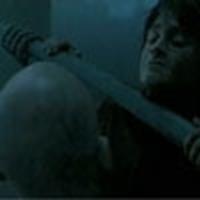 Voldemort & Harry
Hi-res image & video clip of Voldemort from 'GoF'
November 23, 2005 at 3:47 PM ET
Geri HPANA (via Warner Bros.)

harry potter and the goblet of fire, goblet of fire, voldemort, ralph finnes
---
Thanks to the good folks at Warner Bros. for sending us a high-resolution image of Lord Voldemort (Ralph Fiennes) from Harry Potter and the Goblet of Fire that appeared in today's USA Today newspaper.
You can see the picture here

, but don't look if you don't want to be spoiled if you haven't seen the movie yet.
UPDATE: Warner Bros. has furnished us with a clip from the movie. Enjoy.