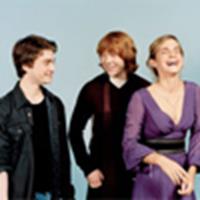 Daniel, Rupert & Emma
Potter trio on the cover of LIFE magazine
November 18, 2005 at 10:53 AM ET
Geri HPANA (via News Tip)

harry potter and the goblet of fire, goblet of fire, daniel radcliffe, dan radcliffe, rupert grint, emma watson
---
To coincide with the release of Harry Potter and the Goblet of Fire Dan, Rupert and Emma are on the cover of LIFE weekend magazine

. The magazine comes with certain newspapers and we are trying to locate a copy. The trio, in a new picture on the cover, with the title "Welcome Back Potter," the magazine has also chosen the movie as the number one must-see family film for the holidays!
Thanks to Penny for the tip.
UPDATE: Thanks to Crystal you can now see scans of the magazine here

.