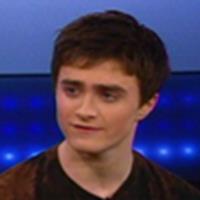 Daniel Radcliffe
Video of Dan on 'Showbiz Tonight'
November 17, 2005 at 7:55 PM ET
Geri HPANA (via News Tip)

harry potter and the goblet of fire, goblet of fire, daniel radcliffe, dan radcliffe
---
This week, CNN's Headline News show Showbiz Tonight in the U.S. has been featuring Harry Potter and on tonight's episode had an interview with Dan Radcliffe.
Dan talked about how much better Goblet of Fire is in the series, if the rating had been lower than PG-13 it would have disappointed the fans, Cedrics death, romance in the movie, meeting fans and autograph hunters. He was also asked if he missed out on a 'normal childhood,' talked about his stunts and his theory of what will happen to Harry at the end of the series.
You can download the clip of tonight's show here

(Windows Media) courtesy of Into the Pensieve

.
You can now view the clip here

in QuickTime.