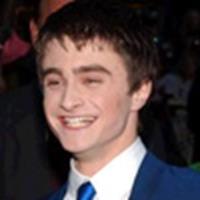 Dan Radcliffe
Dan discusses Snape's redeeming quality
November 16, 2005 at 12:16 PM ET
Geri HPANA (via VH1.com)

harry potter and the goblet of fire, goblet of fire, daniel radcliffe, dan radcliffe
---
In an interview leading up to the release of Harry Potter and the Goblet of Fire, Daniel Radcliffe has some interesting things

to say about Snape and that maybe, just maybe Snape will redeem himself in the last book. He also discusses filming with Ralph Fiennes and the underwater scenes.
VH1: You've speculated that Harry might not get out of the whole thing alive. I don't know if that was before you read the sixth book. Now I don't see how he can handle Voldemort on his own.
Daniel: Really? I think there has got to have been something between Snape and Harry's mum in it. I don't know that for sure. But I mean, based on what you sort of seeing in the fifth book, I think there was something more to their relationship. I certainly think you're right, and I'm not sure Harry could take him on alone, unless there's a very big event that really hardens Harry and strengthens him halfway through the seventh. I don't think he's a powerful enough wizard. Maybe that will be Snape's redeeming quality!