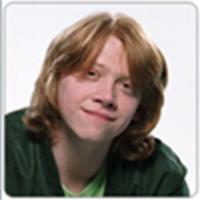 Rupert Grint
Daniel & Rupert's iTunes picks
November 15, 2005 at 11:12 AM ET
Geri HPANA (via News Tip)

daniel radcliffe, dan radcliffe, rupert grint
---
Apple iTunes has added Harry Potter stars Daniel Radcliffe and Rupert Grint's music picks to their latest Celebrity Playlists section.
Some of Dan's favorite

groups include The Libertines, Weezer, The Future Heads and Arcade Fire. Rupert's picks include

They Might Be Giants, Franz Ferdinand, Green Day and Velvet Revolver.
You can go to Apple iTunes

and if you have the service can download both of their picks for $11.88 (Dan's 12 songs) & $10.89 (Rupert's 11 songs) starting today.
Thanks to Savannah for the tip.