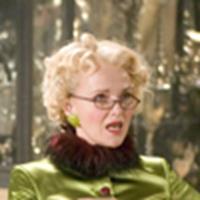 Miranda Richardson as Rita Skeeter
Miranda Richardson speaks about 'GoF'
November 15, 2005 at 12:11 AM ET
Geri The Leaky Cauldron (via The Times)

harry potter and the goblet of fire, goblet of fire, miranda richardson
---
Miranda Richardson, Rita Skeeter, from Harry Potter and the Goblet of Fire recently discussed her role in the movie, commenting that she turned Skeeter into a garishly power-suited vamp, "Vivienne Westwood revisited, with a slightly bubbly perm." She also spoke about working with director Mike Newell again and whether she will return for Order of the Phoenix.
On returning for Order of the Phoenix:
Well, they like a bit of novelty in the films, so I'm not convinced they're gonna ask me back. I don't know.