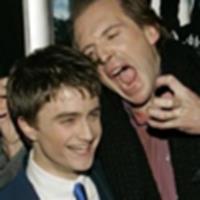 Radcliffe & Fiennes at NY premiere
Update: 'Goblet of Fire' New York premiere images, news
November 13, 2005 at 1:19 PM ET
eudaemonia HPANA (via Various)

harry potter and the goblet of fire, goblet of fire, movie 4, ny, ziegfeld theater, premiere, afterparty, us premiere
---
Photos and news reports from the U.S. premiere of Harry Potter and the Goblet of Fire are now available online. The event at the Ziegfeld Theatre had Robert Pattinson, Daniel Radcliffe, Katie Leung, Jason Isaacs, Emma Watson, Ralph Fiennes, Rupert Grint, Miranda Richardson, Brendan Gleeson, and director Mike Newell (to name a few) in attendance.
Photos:
Yahoo! News

-- Thanks to Emile
RupertGrint.Net


Getty Images


Wire Image


MuggleThai


Abaca Press


London Features Int'l

-- Thanks to Ximena
Film Magic

-- Thanks to Jas
Splash News

-- Thanks to Jas
EmmaWatson.Net


Zuma Press


FictionAlley

(Red carpet and afterparty; coming soon with video coverage and writeup) -- Thanks to Lauren
DanRadcliffe.Co.UK


CBBC Newsround


MTV


WENN


DanRadcliffe.Net

-- Thanks to TR

News Articles:
WCBS-TV New York

(with video)
NY Daily News


CBBC Newsround

More photos and news articles will be added to this post as they appear.