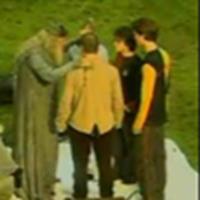 Dumbledore & the champions
Everything you ever wanted to know about Potter
November 11, 2005 at 9:57 PM ET
Geri HPANA

harry potter and the goblet of fire, goblet of fire
---
MTV show ET on MTV

had a special 30-minute program this evening, which showed everything that you needed to know about Harry Potter. The show showed interviews with the cast, scenes from the new movie, Harry Potter and the Goblet of Fire, as well as from previous movies and the recent premiere in London.
The show has been broken up into clips (see below):
Windows Media (Courtesy of Into the Pensieve

, :45 sec download time)
The show will re-air during the weekend, so please review your local listings for times.