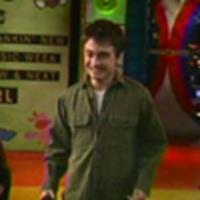 Dan on MTV's TRL
Video of Dan on MTV's TRL & FUSE TV
November 11, 2005 at 6:02 PM ET
Geri HPANA (via News Tip)

harry potter and the goblet of fire, goblet of fire, daniel radcliffe, dan radcliffe
---
On this afternoon's showing of MTV's TRL

and FUSE TV

, Harry Potter star Dan Radcliffe appeared and spent some time amidst screaming fans and countdown music videos.
On TRL, he discussed the tasks for the movie, a clip was shown from the movie, stated that there is no kiss between Harry and Cho, and ended his appearance with a quiz. Sorry to report but Rupert Grint did not appear on the show.
On FUSE TV, he spoke of a self-proclaimed Mrs. Radcliffe following him in New York, played videogames on the Xbox, talked about December Boys (which he starts filming in 4 days), and introduced music videos. There are also video clips of cast interviews provided on the FUSE Daily Download.
You can download and watch clips from both of the shows here

, courtesy of Into the Pensieve

.
UPDATE: For those of you curious as to what happened to Rupert, you can click here

, courtesy of MuggleNet fan report.