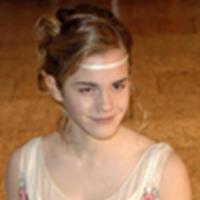 Emma Watson
Chat live with Emma Watson
November 10, 2005 at 11:17 PM ET
Geri HPANA (via News Tip)

harry potter and the goblet of fire, goblet of fire, emma watson
---
So, what are you doing on Tuesday afternoon, November 15th? Well, if you are a Harry Potter and Emma Watson fan you will be online chatting

with the actress.
According to the web site:
Emma Watson stars as Hermoine Granger in Warner Bros' wildly popular Harry Potter films. She joins us to answer fan's questions and talk about the latest release, Harry Potter and the Goblet of Fire, which opens November 18.
The chat room will open 30 minutes before the event -- 11:45 AM Pacific / 2:45 PM Eastern -- at that time you can start submitting questions. Additionally, you need to register

in order to participate in the event.
Thanks to Harry Latino

for the tip.