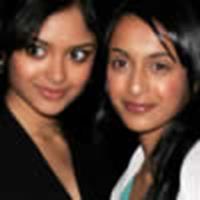 Afshan & Shefali
Spotlight on the Patil sisters of 'Goblet of Fire'
November 8, 2005 at 8:50 PM ET
eudaemonia HPANA (via News Tips)

harry potter and the goblet of fire movie, goblet of fire movie, movie 4, parvati, patil, padma, patil twins, patil sisters, sisters, afshan, azad, shefali, chowdhury
---
An article featuring Afshan Azad

(Padma Patil) and Shefali Chowdhury

(Parvati Patil) from the Goblet of Fire film is now available online. With the auditions for the Patil twins taking place almost two years ago, we finally get a bit of a background on the two young ladies who were lucky enough to be cast as Harry Potter and Ronald Weasley's Yule Ball dates. Here's a bit of the article where they discuss the auditions:
17-year-old [Shefali] who is pursuing her A-level in college and has Sociology and Religious studies as her subjects says she's glad she did what interests her "the most." "I was always interested in Drama and even took it as a course earlier. So when this opportunity of acting in a film came my way, I was only too ready to take it," she says.
It was different for 16-year-old Afshan - also an A-level student learning Chemistry, Biology, English and media language in her college - who auditioned for the role for pure kicks. "It was a total joke for me. The casting agents came to my school and my friends and I did it for fun. But I became very serious about the entire thing once I got in."
Interestingly since the Patil sisters in the original book, authored by JK Rowling, are twins of Asian origin, the casting agents of the film - the fourth in the Harry Potter series - spent time visiting schools in the Bradford area searching for the perfect pair of Asian girls to play these characters.
However, when they failed to find twin Asian girls, they zeroed in on two girls, "who just had fantastic chemistry" between them. Hence Shefali and Afshan studying in two different parts of London were chosen to play the roles of Parvati and Padma Patil respectively.
You can read the full article here. Thanks to everyone for the tip.