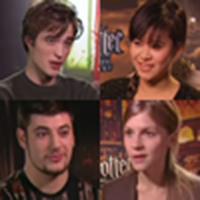 Robert, Katie, Stan & Clémence
'Goblet of Fire' interviews, movie clips on MTV Overdrive
November 7, 2005 at 11:56 AM ET
eudaemonia HPANA (via News Tip)

harry potter and the goblet of fire movie, goblet of fire movie, movie 4, daniel, dan, radcliffe, harry, potter, rupert, grint, ron, ronald, weasley, emma, watson, hermione, granger, interview
---
MTV Movies

has a feature on Harry Potter and the Goblet of Fire, with the cast and footage from the film (some of which you may have already seen). Not only do the interviews spotlight Daniel, Rupert and Emma talking about love and hormones at Hogwarts, but also of the new cast including Katie Leung. Additionally, Stanislav Ianevski, Robert Pattinson, Clémence Poésy are featured as they talk about the filming the danger and action sequences in the movie.
The feature is broken up into different segments, but you find them all by clicking "Play" on Goblet of Fire: Hormones & Hogwarts

.
Thanks to Barbi for the tip!
Update: There's a downloadable file available here

of the main segment, talking about love and relationships. Thanks to Oliver of Into the Pensieve

.