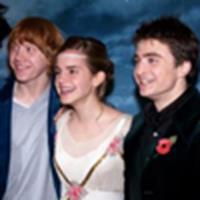 Rupert, Emma & Dan at the premiere
Update: 'GoF' premiere news, photos & videos
November 6, 2005 at 8:52 PM ET
Geri HPANA (via Various)

harry potter and the goblet of fire, goblet of fire, goblet of fire premiere, harry potter and the goblet of fire premiere
---
Let the fun begin, photos of the red-carpet arrivals for the Harry Potter and the Goblet of Fire are beginning to appear online. The premiere area resembled scenes from the movie's tasks and we have added numerous news stories, photos and videos. Enjoy. JK Rowling didn't attend the event due to the fact that her husband is still ill.
News & photos of the premiere are below:
Getty Images

Wire Image

BBC News

, photos
here

CBBC Newsround

Agency France-Presse

Photos from
MuggleThai

Yahoo News UK

is reporting that the premiere was attended by 7,000 fans
Yahoo! News

,
photos

You can see some hi-res pictures courtesy of
DanRadcliffe.co.uk

London Features

courtesy of
TLC

Monsters & Critics

Abaca Press

FilmMagic

Herald Sun

report & pictures
Reuters

MuggleNet

gallery
Empire Online

CNN

The Mirror

The Guardian

with a fan review of the film
And now some
reviews

of the movie from people who attended the screening today
Videos:
Dan Interview -- High (courtesy of DROnline

)
Dan Interview -- Low (courtesy of DROnline

)
Into the Pensieve

has videos with many of the cast - too many to name here
DanRadcliffe.com

has posted pictures and will be uploading video shortly
You can see the premiere again here

, just in case you missed the live stream the first time around. More news/photos will be added to this news post as they appear.
UPDATE: Pictures of the arrivals to the after party at The Natural History Museum can be seen here

.