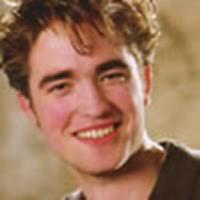 Robert Pattinson
New image scans of 'GoF' cast on Movie Time
November 3, 2005 at 11:51 AM ET
eudaemonia HPANA (via MuggleThai)

harry potter and the goblet of fire movie, goblet of fire movie, movie 4
---
Magazine scans of a Thailand magazine, Movie Time, has some new images of the cast of Harry Potter and the Goblet of Fire. Robert Pattinson (Cedric Diggory) and Katie Leung (Cho Chang) don some muggle-wear, whereas Emma Watson (Hermione Granger) and Daniel Radcliffe (Harry Potter) have close-ups with their yule garb. Additionally, Rupert Grint (Ronald Weasley) is also featured in a Q&A session, which will need some translation for most of us to read but a nice picture of the actor nevertheless.
Here are the scans

, courtesy of MuggleThai:
Thanks to Nicky for the tip!