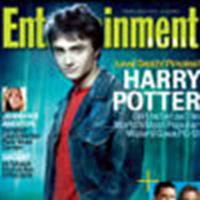 Entertainment Weekly
UPDATE: 'GoF' to be featured in Entertainment Weekly
November 2, 2005 at 7:12 PM ET
Geri HPANA (via Entertainment Weekly)

harry potter and the goblet of fire movie, goblet of fire movie, movie 4, daniel radcliffe, david heyman, emma watson
---
Thanks to the good folks over at Entertainment Weekly

for letting us know that next week's issue of the magazine will have Daniel Radcliffe on the cover. The issue will include a story on Harry Potter and the Goblet of Fire, a Q&A with Daniel, and a look back at all the Harry Potter films with producer David Heyman. The issue hits newsstands nationwide on Monday.
You can see the cover here

which they sent over, we should have scans from the magazine on Friday. Thanks guys.
UPDATE: We were also given a little preview of the articles that will be featured. Here are some snippets:
The most reluctant of the three to return, Emma Watson

took her time considering if she'd sign on to do the fifth film, Harry Potter and the Order of the Phoenix, but she had this to say after the director put her and the others through an improv boot camp with an acting coach:
[Director Mike Newell] really made me remember why I love acting in the first place. Leaving this all behind would be very difficult.
Here's a bit of the Q&A with Daniel Radcliffe

:
Four films down. Looking back, how would you describe your growth?
The first film, there was a lot of energy, but the energy wasn't being focused. That's what I'm gaining: focus. Also, on the first three films, I didn't feel I had the right. Now I'm finding it's better to say something than not say anything. Of course, then they say, 'Oh, Dan! Shuffle along.' But in general, I'm more self-assured about Harry being my character.