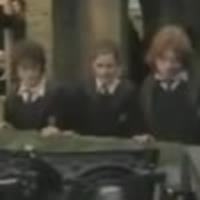 Dan, Emma & Rupert
'GoF' behind-the-scenes video clips
October 31, 2005 at 12:03 PM ET
eudaemonia The Leaky Cauldron (via The Movie Reporter)

harry potter and the goblet of fire, goblet of fire, movie 4, behind the scenes, raw film, film production, production
---
Here's a nice treat for Harry Potter fans this Halloween: two new behind-the-scenes footage from Goblet of Fire have just been posted up for your viewing pleasure. The two clips each show various filming scenes involving the Defense Against the Dark Arts classroom, after the goblet spat out the fourth champion for the Triwizard Tournament, the Quidditch World Cup chaos, the trio during the Yule Ball, and more.
You can download the two clips via TLC

or The Movie Reporter

.