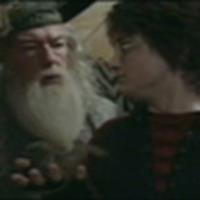 Harry with Dumbledore
New 'GoF' clip from Ellen
October 31, 2005 at 11:20 AM ET
Geri HPANA

harry potter and the goblet of fire movie, goblet of fire movie, movie 4
---
On this morning's edition of the Ellen DeGeneres show

a new preview from Harry Potter and the Goblet of Fire aired. The clip showed the drawing of the dragons for the first task with Dumbledore, Rita Skeeter, Harry, Hermione, Fleur, Cedric, Krum, their headmasters and Crouch Sr.
You can view the clip here

in Quicktime (right-click & save target as..). You can also go to MuggleNet

to view the new clip in Windows Media.
UPDATE: The first task clip has now been loaded

onto Ellen's site.