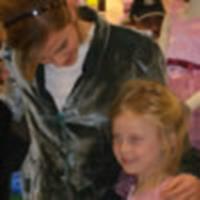 Emma with fan
Emma in-store appearance report and photos
October 30, 2005 at 1:42 PM ET
eudaemonia The Leaky Cauldron (via EmmaWatson.net)

hermione, granger, hermione granger, emma, watson, emma watson
---
Jo of EmmaWatson.net

has just posted up a personal report of Emma Watson's in-store appearance at London's Marks & Spencer from earlier this morning, where the actress who portrays Hermione Granger in the Harry Potter films met with fans and signed autographs. Candid photos of Emma signing autographs during the event are also available to view.
You can go here

to read the report and view the photos.
UPDATE: MuggleNet has some photos and a video from the event as well, which you can view here

.