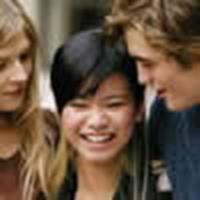 Clémence, Katie and Robert
'Goblet of Fire' UK photocall, cast interviews
October 25, 2005 at 12:28 PM ET
eudaemonia HPANA (via Various)

harry potter and the goblet of fire movie, goblet of fire movie, movie 4
---
Today in the UK, the leading cast of Harry Potter and the Goblet of Fire took part in a photo session in promotion of the upcoming film. Latest images of Daniel Radcliffe (Harry Potter), Emma Watson (Hermione Granger), Rupert Grint (Ronald Weasley), Katie Leung (Cho Chang), Robert Pattinson (Cedric Diggory), Clémence Poésy (Fleur Delacour), and Stanislav Ianevski (Viktor Krum) from the photocall are now available online as well as some interviews with all.
You can view the photos here

and interviews can be read here

. Also, not only can you read Emma's take on the rating

of the film, but you can also view a brief video of the press conference

(the file is at the top right link labeled Ellie's report, in Windows Media & RealPlayer formats).
UPDATE: You can now see hi-res pictures from the photocall courtesy of MuggleThai here

. Thanks to Misaki for the tip.
Thanks to DanRadcliffe.com & CBBC Newsround for these pictures and interviews. Also thanks to Aisha & UHP for the tip of the video.