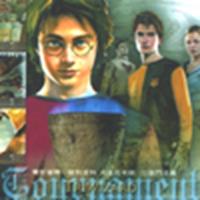 Triwizard Tournament stamps
Taiwan issues 'GoF' stamps to encourage collecting
October 22, 2005 at 3:14 PM ET
Geri HPANA (via News Tip)

harry potter and the goblet of fire, goblet of fire
---
To coincide with the release of Harry Potter and the Goblet of Fire and to encourage stamp collecting, the Republic of China (Taiwan) will be issuing two souvenir stamp sheets

on the day of the movie's release, November 18th.
According to the web site:
Harry Potter is a magical concoction of the English writer J.K. Rowling and dearly loved by young people. In step with the times, the subjects of issued postage stamps are growing livelier and more varied. And so to encourage younger generations to collect stamps, Chunghwa Post is issuing two souvenir sheets with a Harry Potter theme: Triwizard Tournament and Magical Creatures. The issuance of these souvenir sheets coincides with the release of the movie Harry Potter and the Goblet of Fire.