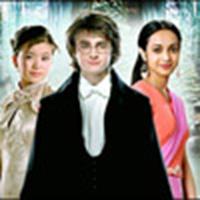 Cho, Harry & Parvati at the Yule Ball
Official UK & U.S. 'Goblet of Fire' sites updated
October 21, 2005 at 3:37 PM ET
Geri The Leaky Cauldron

harry potter and the goblet of fire, goblet of fire
---
The official UK Harry Potter and the Goblet of Fire site has been updated

with a 3-D video of the Trophy room, some new graphics and a section describing the film, cast and crew. More to come soon.
UPDATE: The Yule Ball

section of the official site is now online. You can see new pictures of the attendees, select a video, download screensaves, buddy icons and wallpapers and eventually you will be able to create your own dress robes. Enjoy.