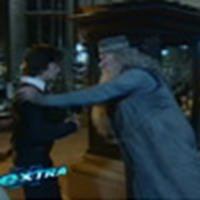 Dumbledore & Harry
New footage from 'Goblet of Fire' on Extra!
October 20, 2005 at 7:32 PM ET
Geri HPANA (via Extra TV)

harry potter and the goblet of fire movie, goblet of fire movie, movie 4
---
Entertainment TV show Extra! in the U.S. showed a behind-the-scenes look at Harry Potter and the Goblet of Fire which included clips of Harry confronting Draco, behind-the-scenes footage, Draco as a ferret and Daniel talking about a stunt.
You can view the behind-the-scenes here

(QuickTime) & here

(Windows Media) courtesy of DanRadcliffe.co.uk

.
UPDATE You can go directly to Extra!

to view the video & read the story. You can also view the ferret scene only here

and we have some screencaps

from IntoThePensieve.com.